At THERMALIUM, we protect ourselves by disinfecting surfaces at regular intervals and using the highest possible intensity of water purification destroy all microorganisms, completely disinfecting and replacing the entire pool every two hours.)
OPENING HOURS FOR THE PUBLIC
Mon – Fri 11:00 – 21:00 (saunas 13:00 – 21:00)
Sat 07:30 – 21:00 (saunas 13:00 – 21:00)
THERMALIUM thermal pools
Main healing bath 35°C :: Thermal swimming pool 29°C :: Kneipp walkway
–
290 CZK / 90 minutes
– surcharge for time extension + CZK 50 / every additional 30 minutes started
– additional fee for entry to the saunas + 50 CZK (Does not extend the length of entry. Must be purchased before entry, change is not possible after passing through the turnstile.)
THERMALIUM thermal pools and saunas


Pools: Main healing bath 35°C :: Thermal swimming pool 29°C :: Kneipp walkway




Saunas: Finnish sauna 95°C, <10% humidity :: Tropical sauna 40°C air, 20 – 40% humidity :: Biosauna 55°C air, 40 – 60% humidity :: Steam sauna 40°C air, 100% humidity


–
390 CZK / 150 minutes
– surcharge for time extension + CZK 50 / every additional 30 minutes started
The entrance to the saunas is one-time, by leaving to the floor of the thermal pools the entrance to the saunas is exhausted. Entrance to the saunas can be purchased at 12:30 at the earliest.
Children are allowed to enter THERMALIA from the age of 3 (only when accompanied by an adult)
Bathing clothes, a towel and suitable footwear are required to enter the pools.
Where is THERMALIUM?
THERMALIUM Teplice – Beethoven Spa House – 1st floor
Enter the Beethoven Spa House and go up the stairs (or lift) to the 1st floor. Right next to the stairs you will find the THERMALIUM reception. Possibility of parking in front of the spa house (50 CZK / h), free parking spaces in Rooseveltova Street, and other parking options are available at the Fontána and Galerie shopping centers.
Contraindication
When is it necessary to postpone a visit to the spa?
all diseases in the acute stage (feverish, inflammatory, infectious diseases eg influenza, diarrhea, inflammation of the veins …)
pregnancy
cancers during and after treatment with clinically detectable signs of disease progression
inability to retain urine and stool
non-healing skin defects of any origin, skin infections
serious heart disease / eg hypertension above 100 diastolic pressure (lower pressure), severe heart rhythm disorders… /
intoxication with alcohol or other narcotics
THERMALIUM is a complex of the large and warm swimming pools with pure thermal mineral water. The pools are filled with the Pravřídlo thermal spring. It is a natural healing resource that has been extracting minerals and rare elements from the volcanic massif below the city for 18,000 years.
The composition of the spring prevents osteoporosis, helps delay changes in the joints and strengthens physical condition.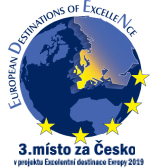 Immerse yourself in healing springs.
The power of spas as part of a lifestyle.